Do you remember the last time you tried joining a Sacco? The long queues, endless paperwork, and the seemingly never-ending wait? Those days are gone, thanks to Kwara's innovative Sacco Recommendation System. This digital transformation is setting a new standard for how people join Saccos. Let's dive in!
Here are the incredible benefits of this exciting new feature:
Instant Membership with Just a Few Clicks: In the traditional way, joining a Sacco was a time-consuming and often exhausting process that required a physical visit. However, Kwara's new system has simplified the entire experience. Now, with just a few clicks on your device, you can become a member of a Sacco! No need to leave the comfort of your home or office; joining a Sacco has never been this convenient.
No More Endless Forms: The days of drowning in endless paperwork when joining a Sacco are over. Instead of filling countless forms and documents, you'll answer just a few straightforward questions. Kwara's recommendation system streamlines the process, making it more user-friendly and accessible for everyone.
A Golden Opportunity for Saccos: For Saccos themselves, Kwara's new recommendation system offers an unprecedented opportunity to build and grow their membership rapidly. By partnering with Kwara, Saccos can provide a delightful experience for their members. This modern, user-friendly approach is a game-changer, attracting more individuals to the world of Saccos.
How Kwara's Sacco Recommendation System Works
Step 1: Choose Your Preferred Sacco
When you log into the Kwara App, you'll be presented with a simple choice. You can either select a Sacco yourself or proceed through our recommendation flow, which is designed to help you find the perfect fit.
Step 2: Answer a Few Quick Questions
If you opt for the recommendation flow, you'll answer a series of questions that will guide our system in finding the right Sacco for you. These questions include:
What financial product are you interested in?
What is your monthly income range?
What is your age group?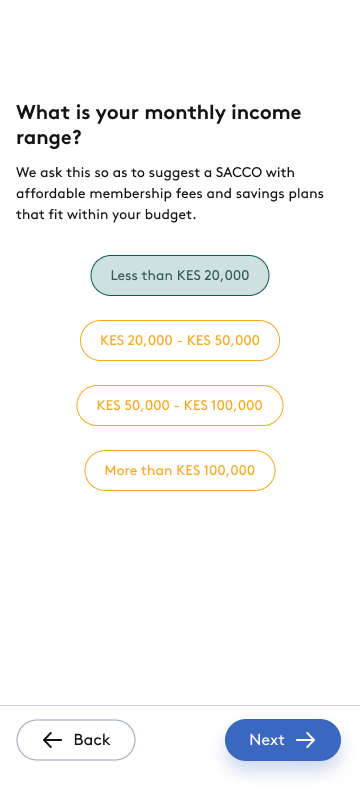 Step 3: The Magic Happens
Our recommendation system takes your answers and matches them with the Saccos in our database. It follows this logic:
Checks if the Sacco offers the financial product you're interested in.
Determines if the Sacco's membership fee fits within your income range.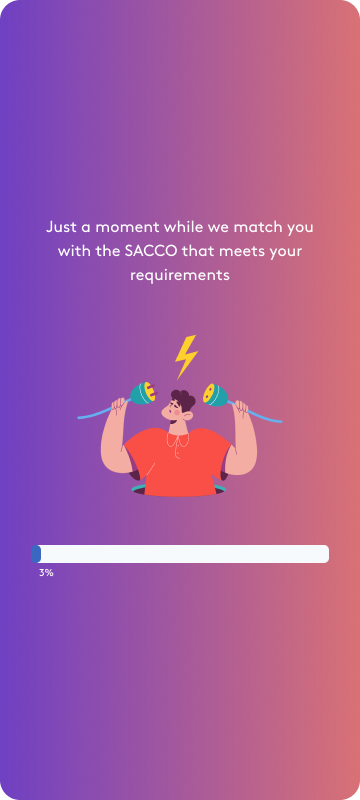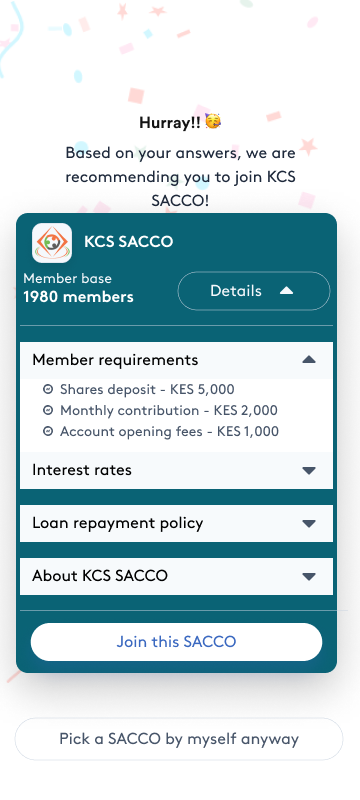 We provide you with a list of recommended Saccos that match your criteria. Even if we don't find a perfect match based on your specific choices, we still offer recommendations based on broader considerations, ensuring you have options to choose from.
In conclusion, Kwara's Sacco Recommendation System not only simplifies the process of joining a Sacco but also brings a world of benefits to both prospective members and Saccos themselves. It's a win-win situation, transforming the way people access cooperatives and making it easier than ever before. Say goodbye to the old, cumbersome ways of joining a Sacco and embrace the future of seamless and convenient membership with Kwara!
Ready to experience the future of Sacco membership? Click here to try out our new feature now! If you found this update valuable, don't forget to share it with your network. For any questions or feedback, we're just a message away.